Monday, March 2, 2009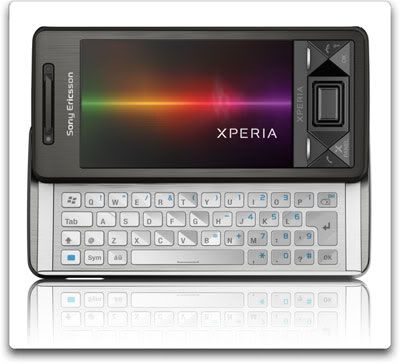 Convergence Sony Ericsson XPERIA X1 lets you enjoy the convergence of communication and entertainment. Choose an experience by simply touching the XPERIA panel interface. The QWERTY keyboard makes writing fast and easy. On the Inside With

Windows Mobile® inside, you can enjoy your favorite entertainment and work efficiently on the move. Windows Mobile® includes outlook Mobile and Office Mobile giving you instant access to your mobile office anytime.

XPERIA X1 is a premium mobile experience. Distinctive Design The arc slider design, 3 inch wide VGA display and premium metal body; with its sophisticated and distinctive design the XPERIA X1 redefines premium. The arc design gives XPERIA X1 a distinctive and unique feel. Slide the screen upwards to reveal the wide-pitch QWERTY keyboard. XPERIA Panel Interface Enjoy access to different experiences - web, multimedia and applications from your desktop.

Navigate with the tip of your finger. Configure and have your XPERIA panels just the way you want them. Multiple Navigation XPERIA X1 lets you interact via numerous intuitive ways. Touch screen, full QWERTY keyboard, 4-way directional pad and optical joystick all alows you to switch seamlessly between operation modes.